Pricing Mistake to Avoid When Listing Your Home For Sale
Pricing your home can be a tricky science sometimes. There is a lot to consider such as the updates you've done, the condition of your home, the neighborhood you live in, the size of your home and the location. You also need to take into consideration what other homes have been selling for in your area. What you would like your home to sell for might not always match the market value of your home. And ultimately the market is going to determine how much your home is worth.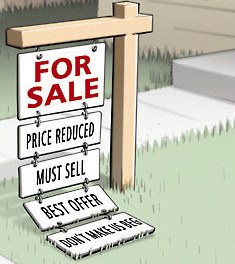 If you're thinking of selling your home in the near future; you should be aware of the common pricing mistake you'll want to avoid if you want to sell your home successfully.
We all want to sell our home for the most amount of money in the shortest amount of time and often this does not happen because of one common mistake…..pricing your home too high.
It seems innocent enough. And it probably doesn't even sound like a mistake to most homeowners. Many homeowners feel like they should list their home for higher than the real estate professional recommends…
· For "wiggle" room on the price.
· To negotiate the price down, because buyers will always come in low.
· Because you can always go down in price, but you can't go up.
· Because the owner wants or needs that much in order for it to make sense to sell.
· To recoup the money the owner has put into the home over the years in improvements.
Unfortunately, none of that matters,and none of that works in most cases. It will not get you the highest price for your house. Quite the contrary, you will often lose money by doing so.
Pricing is the single most important factor in the marketing of a home – between 80-90%. No matter how great the exposure, an overpriced home will most likely not sell!

Statistics show that homes priced correctly when they first hit the market sell closer to the asking price than homes that start out too high. Don't make the common mistake of starting the listing process with the mentality of "we can always lower the price later." If you overprice your home, even if you reduce the price fairly early on, you lose the critical first days and weeks of buyers' attention.
When priced higher to start; the smaller the pool of interested buyers is going to be. Buyers willing to pay what you really want for your house might not even see it because it's just over their budget at the price you have it listed for, when in reality, they can absolutely afford the price you really want to get.
Your home also might appear as"over-priced" when you first list it for sale. Would you rather have potential buyers think: "That home isn't worth that much, they're crazy!" and try to negotiate your price down or "Wow! I love this house, I have to get it before it's gone!"
I hope you found this information helpful in avoiding a common mistake when you go to list your home.
And remember, a good market study (CMA) is critical when deciding to sell to help determine the value of your home. Get your market analysis here!